In our constant quest to provide our customers the best in industrial ventilation, we have developed the Precoater 2 and Laminar Flow Plenums.
---
Precoater 2
The inexpensive, simple solution for sticky, oily residue build-up in ductwork and high pressure drop in baghouses. The Precoater 2 pre-polishes ductwork while simultaneously coating fabric media (baghouse socks) with an absorbent material to prevent and eliminate oily and tacky residue.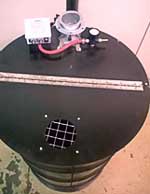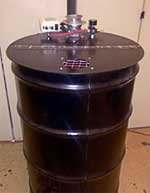 Continuously coats fabric filters so that oil aerosols cannot contact the filter fabric resulting in blockage.
Simple, inexpensive, small footprint, low operating cost,
Three point hook-up: compressed air, 115 volt current, & 3" duct to the dust collector
Injects calcium carbonate (absorbent) into duct system, polishing the ductwork (removes the oily residue), and preventing fouling of the bags.
With proper operation, is useful in reducing fire and explosion risks.
Laminar Flow Plenum
The simple solution for employee protection from toxic dusts, the Laminar Flow Plenum create a clean air breathing zone where toxic materials are gently pushed towards exhaust exits.
 Eliminates disturbing or disruptive air currents that stir toxic dusts in a worker breathing zone factory.
 Placed directly over employees at 7 feet to provide uniform, laminar flow to the workspace.
 Produces a "clean air island" zone of ultra-clean air in areas where toxic materials are prevalent.
 Protects the employee breathing zone.
 Ours have guaranteed uniform flow, an inherent volume damper, and a pressure measurement port to assure proper volume.